Think of the Volkswagen Polo like you would your favourite pair of jeans. It's an affordable small car that looks smart and is comfortable in everyday use, and because it's got a Volkswagen badge on its nose it also comes with an added bit of posh desirability. But just like that trusty pair of Levis, it's hardly the most exciting thing you could be seen in.
Not that you should let that put you off considering a new Polo over a Peugeot 208, a Renault Clio or a Seat Ibiza. We think it's one of the best small cars you can currently buy, and its sensibleness is a key part of its appeal.
Open the door and you'll find the little Volkswagen offers the feel of a bigger hatchback. For a car of its size, the Polo is not only surprisingly spacious, but also comfortable and decently plush too. Soft-touch plastics are the order of the day here, and there are a couple of colourful trim finishers available optionally to help liven the place up too. There are a few hard, scratchy surfaces in the lower reaches, but that's to be expected at this price point.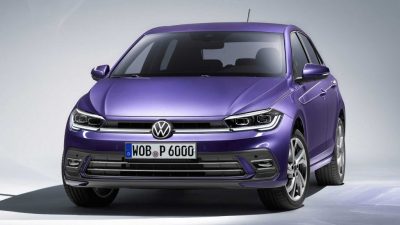 Getting settled in behind the wheel is a doddle thanks to great adjustability in both the seat base and the steering column. Any back seat passengers you might want to bring along with you won't come up short on space either, as both head- and legroom are generous enough for two adults to get comfy. And because it's only available as a five-door, getting in and out of those rear seats is very easy.
Luggage space is very competitive too. At 351 litres, the Polo's boot is larger than the one you'll get in a Ford Fiesta, a Mini 5-Door Hatch and a Peugeot 208.
As far as gadgets are concerned, the Volkswagen Polo has your bases covered. Even the entry-level Match model gets an 8-inch touchscreen infotainment system right out of the box. It uses a slightly older operating system than what you get in the latest Volkswagens, but it's still sharp, responsive and easy to use. In fact, we think it's a bit more intuitive than the newer system you'll find in the Golf.
You won't get satellite navigation in that base Match trim, but wireless Apple CarPlay and plug-in Android Auto are both thrown in. A wireless charge pad is optional, as is a 10.3-inch digital instrument display that replaces the base car's analogue dials.
Although you used to be able to get the Polo with a range of petrol and diesel engines, the diesels have now been dropped. There is a choice of 1.0-litre three-cylinder motors, of which our pick is the mid-level, turbocharged 95hp unit. It's punchier than the lethargic, non-turbo 80hp engine, but is still reasonably economical. We'd go for the six-speed manual gearbox over the seven-speed dual-clutch automatic, too.
There aren't many small cars out there that are comfier on the road than the Polo. It won't jostle you over lumps and bumps and it's quiet and surprisingly relaxing on the motorway. It's accurate, lightweight steering makes it easy to drive around town too – but don't expect it to feel as fun-loving as a Ford Fiesta on a twisty road.
It's also backed up by a full five-star Euro NCAP rating, thanks to features such as automatic emergency braking being included as standard.
The Volkswagen Polo might not be the most exciting small car around, but it's certainly comfortable, well-built, economical and impressively spacious. Just like your favourite pair of black jeans, then, it's very unlikely you'll regret buying one.
---
Source: carwow