What's new from Audi?
The German car manufacturer consistently sets top-of-the-class bench-marks for high quality, technologically upgraded cars. This is no different for their upcoming releases in the SUV and hatchback sector.
Audi Q3 SUV (November 2018)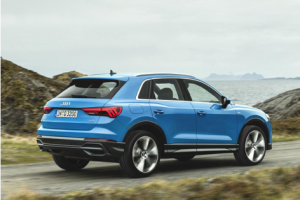 Exterior shot of the Audi Q3 SUV
The second-generation Audi Q3 is set to launch in November 2018, with it having a fresh take on the premium SUV. The new model will be technologically upgraded, larger and more comfortable than before.
With similar models such as the BMW X2 and the Range Rover Evoque already on the market, the Q3's bold, family-friendly style also follows a more muscular appearance compared to Audi's previous Q2 model.
The Q3's interior features high-quality materials, allowing it to have a slick, sharp and sporty design. The updated technology is evident from Audi's virtual cockpit digital dials with built-in touch-screen technology, as well as optional ambient lighting with over 30 selectable colours at your choosing.
Due to the Q3's larger design, boot space measures in at 675 litres (providing rear seats are slid forward), or even 1,525 litres can be achieved with the 40:20:40 split rear seats folded flat, making it more suitable for the family-friendly customer.
The Q3 will be offered with users choosing between three different petrol engines and one diesel engine. More details on the exact engine specifications can be found at Car Buyer's news on the new Q3 model.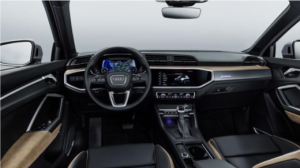 Interior view of the Audi Q3 SUV
As far as leasing offers go, (as per 19/09/18) pricing starts at £229.09 – £378.81 for a 24 month contract (pricing depends on different Q3 versions). Different contracts are available, but more information on leasing prices can be found here.
The Q3 is certainly a worthy opponent to take on the WhatCar's Car of the Year, the Volvo XC40. For more general and detailed information on the latest Audi Q3 SUV model, take a look at Carbuyer'sin-depth review. 
2018 Audi Q8The Q3 isn't the only addition to Audi's SUV range. With SUVs continuing to take up a large portion of the car market, Audi's continuing strive to deliver doesn't stop there.
The Q8 is another take on the SUV market, with it being positioned above Audi's previous Q7 model with a more stylish, striking and desirable design.
The Q8 is set to take on its major rivals including the BMW X6 and the Mercedes GLE Coupe, both credible competitors in redefining the coupe SUV market. This is done through the Q8's redefined style with upgraded features and technology.
That being said, technology always plays a part in Audi's latest versions of cars and is no different here. The full-width LED lighting combined with the larger grille helps fulfil the refined, sportier appearance.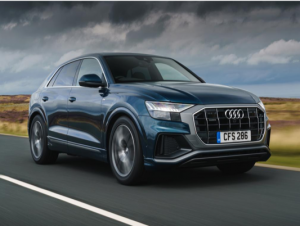 Exterior shot of the Audi Q8 2018
The interior technology focuses on providing sharp, ease-of-use general conveniences by integrating touch dual screen infotainment systems, with the Virtual cockpit 12.3 inch standard digital dials supporting the car's general ease of use. A more comprehensive, detailed overview on the Q8's cabin features and technologies can be found at Autocar's Q8 review.
As for leasing prices, (as per 19/09/18) the upgraded SUV starts at £726.76 – £948.84 for a 24 month contract, however other contracts are available on Carleasing's website.
This is something to look forward to in Audi's SUV range, but equally exciting is Audi's new take on the hot hatchback sector.
Audi A1 Sportback (November 2018)
Audi is also upgrading their efforts in the hot hatchback sector, with the new A1 Sportback coming out in November this year.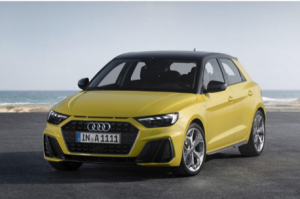 Exterior shot of the Audi A1 Sportback
The second-generation hot hatchback will follow a sporting new look with advanced cabin tech, drawing on high-tech safety with general convenience.
Audi aims to make this latest model a key competitor with the current hot-selling Mini, in an attempt to make it the most generously equipped supermini on sale.
The latest A1 will be the smallest model in Audi's range, with a sporting design in the hopes of drawing new and young customers to the brand. The increase in size (4 meters long) helps to meet general conveniences by increasing interior cabin space and adding 65 litres of luggage capacity.
he sporting elements allow the A1's power to come from a choice of turbocharged TSFI petrol engines (no diesel version offered).
Depending on the individual models offered, some of the top models are offered with firmer sports suspension, depending on how much sportiness you are looking for.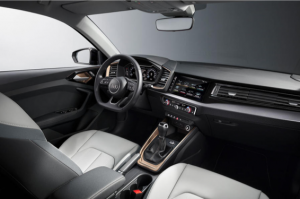 Exterior shot of the Audi A1 Sportback
As for the A1's high-tech features, the A1 comes with a multi-functional steering wheel with an all-digital instrument cluster. The centre console comes with touchscreen capabilities and a sat-nav system with internet-connected location search capabilities. Health and safety technology is met with the A1's pre-sense radar-based technology that is capable of recognising other motorists, cyclists in a variety of weather conditions to help offer accident mitigation.
It seems that Audi have caught up on the hot hatchback sector with its rivals such as the Ford Fiesta, Minihatchback and VW Polo winning over customer support throughout this last year.Starting price is close to the Mini, (as per 19/09/18) coming in at £16,500 and £16,605 for the five-door form.  As for leasing prices, a variety of offers are available for the Audi A1 Sportback (as per 19/09/18)starts from £206.15 to £356.59 for a 24 month contract (pricing depends on different A1 versions). More information is available on Carleasing's webpage.
If the latest A1 Sportback is something that has caught your attention, find more details on Audi's latest A1 Sportback by visiting Audi's exclusive page.